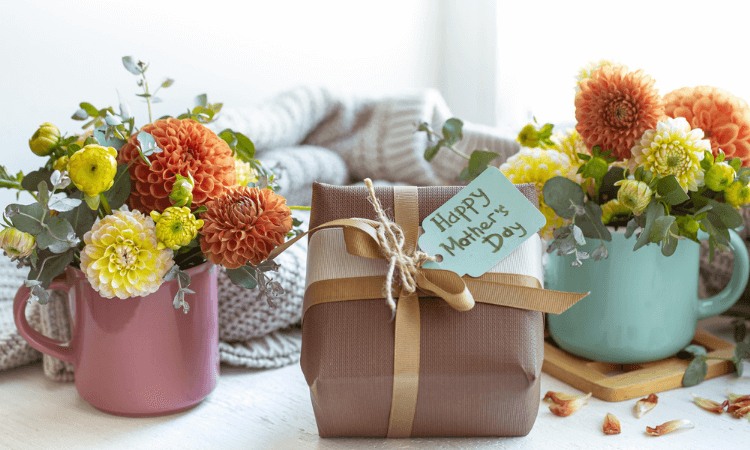 Mother's Day is just around the corner. And if you're searching for the perfect gift to show your mom some love, you've come to the right place. Here we have compiled a list of the best Mother's Day gift ideas that will help you find the perfect gift for her.
But why is finding the best Mother's Day gift so important? Well, because our moms are superheroes who deserve nothing but the best! They've always been there for us, providing unconditional love. So, isn't it time we shower them with a little extra appreciation?
Now, you might be wondering, "What are the best Mother's Day gift ideas in India?" Don't worry, we've got you covered! From sentimental keepsakes to luxurious pampering treats, there's something for every type of mom out there. Whether she's a fashionista, a foodie, a wellness enthusiast, or a bookworm, we've handpicked a curated list of fabulous gift ideas that will make her heart skip a beat.
Choosing The Best Gift For Mother
Curious about what's on the list? How about a personalized photo frame capturing your cherished memories together? Or a spa day to help her unwind? For moms who love glamour, a stunning piece of jewelry is always a winner! And let's not forget the moms who enjoy delicious gourmet treats or beautifully curated gift boxes.
The best part? All these amazing Mother's Day gift ideas are readily available in India! No need to worry about international shipping. You can easily find these thoughtful gifts online or at local boutiques, making it super convenient to express your love and gratitude for your incredible mom.
With the gift, you can also give her a bouquet of flowers or a chocolate hamper which she loves the most. You can also give her a day off from daily housework and let her enjoy a day with her favorite things like movies, make her food, or take her out for dinner.
A mother is a person who loves her children unconditionally. So, this Mother's Day celebrate for her and let her know how much she means to you. Here we listed thoughtful Mother's Day gift ideas for any mother. Let's check out the list.
Top 20 Best Mother's Day Gift Ideas:
1. Ceramic Printed Coffee Mug
This Mother's Day, a printed ceramic coffee mug can be the best gift for your mother. It is a great way to stay caffeinated and warm in the morning. This coffee mug can be the best gift for your mother who enjoys coffee or tea.


2. Pendant Necklace

Every woman loves wearing jewelry. A silver-plated pendant necklace can bring a smile to your mother's face. You can also gift a piece of neck jewelry or necklace to your mother.

3. Jewellery Box as a gift

As we all know women love makeup and jewelry. Gifting a jewelry box to your mother can be the best idea. Your mother can keep all her jewelry in this hand-crafted wooden box and can find them easily whenever she needed.

4. Body Essential Kit For Women

The combo of Body Essential Kit can be the best gift for your mother. Your mother can enjoy a spa experience at home with this kit. This pack includes shower gel, body lotion, sugar scrub, and body polish. These products can help to clean and moisturize the skin. So, gifting self-care products is one of the best gift ideas this Mother's day.

5. Greeting Card for Mother

Through greeting cards, you can express your love and emotions towards your mother. You can buy greeting cards online or you can also gift her self-made greeting cards. Also, you can craft some other handmade things for her like wall hangings, letters, etc. And we assure you your mother will love your handmade greetings more than any other expensive gifts.

6. Analog Watch For Mother

Gifting a watch can also be a good Mother's Day gift idea. If your mother is an office person then definitely gift her a good quality watch. The sleek designed watch can give her a beautiful as well as fashionable look.

7. Floral Perfume For Women

Floral perfumes can be a perfect gift for Mother's Day. A good quality perfume can help to freshen up her mood and can keep her boosted all day long. This perfume will make her feel confident and beautiful as you go out into the world. It is perfect for any mother to wear and makes her feel like a queen.

8. Women Hand Bag Combo

A handbag combo can also be a perfect gift for your mother. With this combo, your mother will have a purse for almost every outing. With a comfortable handbag, your mother can carry essentials with her while going out shopping or anything. You can also gift her a wallet or clutches which can help to enhance her look at any function.

9. Silver Sparkling Bracelet

This Mother's Day gift bracelet is a unique and stylish way to give a gift to the woman who raised you. This mothers Day gift her a bracelet that is made from a durable, elegant sterling silver material. This silver bracelet is a great way to give your mom the perfect gift this year.

10. Vase As a Gift

A beautifully crafted vase can also be a good Mother's day gift idea. Your mother can daily place her favorite flowers into this vase which can also brighten her mood. It's a perfect decoration for the office, a great centerpiece for the table, and it's a lovely accent to any room. Your mother will love the personal touch this vase will bring to your home.

11. Wooden Spice Box Set for Kitchen

A wooden spice box can be the best gift for your mother if she loves cooking with spices. This unique and attractive designed wooden spice box can enhance your house aesthetics. You can also gift your mother dry fruit container or any other kitchen things that she loves the most while cooking.

12. Muffler Or Designer Dupattas

A thoughtful gift for mom this Mother's Day, this soft and cozy muffler is the perfect way to keep her warm and stylish. The muffler or designer dupatta can add more beauty to your mother's look. You can also gift her a sweater or saree on Mother's Day.

13. Body Massagers

The new design of the body massager is intended to provide the most soothing, relaxing massage for the entire body. The powerful, yet quiet, vibrations offer relief for your mother's sore muscles. This massager can help her to relax after her heavy workday.

14. Wooden Bangle Stand

Every woman has fond of bangles. The bangle stand is a chic gift for your mother. Also, the design of this stand is simple and classy.

15. Plush Slippers
A pair of plush slippers is the quickest way to alleviate the pain in a hardworking woman's feet. So your mother can wear these slippers in the house and feel comfortable.

16. Straw Beach Tote
The spring and summer seasons inspired the creation of straw bags. When she wears it, the vibrant tassel that comes along with this one will serve as the perfect finishing touch to her ensemble.

17. Bonsai Tree

On her table, her workplace desk, or even in the kitchen, the live plant will make a magnificent display. As long as she takes care of it, the plant that is said to bring good luck will continue to flourish for many years to come.
18. Mother's Day Gift Hamper
When she opens the box, she will be welcomed by delectable assortments of chocolate-covered cookies and other treats of the highest caliber. Each one will have a unique thing on top of it, and the card will even say "Happy Mother's Day."
19. Belt Bag
She needs a purse that can carry all of her necessities while leaving her hands free for the days when she has the most going on, such as when she has to ride the bike and run errands. When she is on the go, she may either wrap this belt bag around her waist or sling it over her shoulder; either way, it will keep everything she needs within easy reach.
20. Streaming Service Subscription

An Online Streaming Service subscription can be the best gift for your mother if she loves watching serials. Sometimes she misses her favorite episode of the serial because of work or any other reason. With this streaming service subscription, your mother can watch serials or her favorite movies anytime anywhere on her mobile.

Where To Buy?
You can shop for all of these gifts ideas online as well as in the stores. BUt the best way to buy them is to find them online through the trusted shoppuing sites like Amazon, IGP, FNP, Floweraura, Bigsmall, etc.
Looking for discounts on your online shopping? Now you can buy and save money while buying gifts or any other things online. Online shopping sites feature discount coupons on your shopping. These shopping sites can also deliver various saving offers on your shopping.

Wrapping Up…
So this is our list of the best Mother's Day gift ideas for all the lovely women in your life. In conclusion, our list of the best Mother's Day gifts in India was carefully curated by considering the general preferences and likings of women. We focused on selecting gifts that can make mothers feel truly special and appreciated.
Our experts handpicked meaningful and useful gifts that are sure to bring joy and happiness to every mother's heart. You can trust CouponMoto's suggestions because they are based on extensive research, analysis, and a deep understanding of what makes a gift truly meaningful. With our recommendations, you can confidently choose the perfect gift for your mother, knowing that it will make her day truly memorable.
Hope this list helps you find the perfect gift for your mother. Let us know which gift idea you liked the most or any other gift ideas for mothers in the comment section!
Wishing you a lovely Mother's Day!!
Frequently Asked Questions (FAQ):
1. Where can I find unique Mother's Day gifts online?
Answer: You can find unique Mother's Day gifts online on various e-commerce platforms such as Amazon, Flipkart, and Etsy.
2. What are some sentimental Mother's Day gift ideas?
Answer: Consider personalized gifts like custom-made photo albums or photo collages featuring cherished family moments. You can also opt for handwritten letters expressing your love and appreciation, or even a heartfelt DIY gift that showcases your creativity and thoughtfulness.
3. What are some unique Mother's Day gift ideas for wellness enthusiasts?
Answer: You can consider gifting a yoga mat, a meditation app subscription, a spa or massage gift voucher, or a set of essential oils for relaxation.
4. What are some budget-friendly Mother's Day gift ideas that still make a big impact?
Answer: Consider making a personalized photo collage, writing a heartfelt poem, or cooking a special meal for her to show your love and appreciation.
5. What are meaningful Mother's Day gift ideas for moms who value experiences over material things?
Answer: Plan a day trip to her favorite destination, organize a family picnic, or surprise her with tickets to a concert or a theater show she loves.
6. What are some practical Mother's Day gift ideas for busy moms?
Answer Help make her life easier with a smart kitchen gadget, a stylish planner, or a cozy yet functional organizer to keep everything in order.
7. What are the best Mother's Day gift ideas for moms who love fashion and accessories?
Answer: For fashion-forward moms, consider gifting a trendy handbag, a stylish watch, or a beautiful piece of jewelry that complements her style.