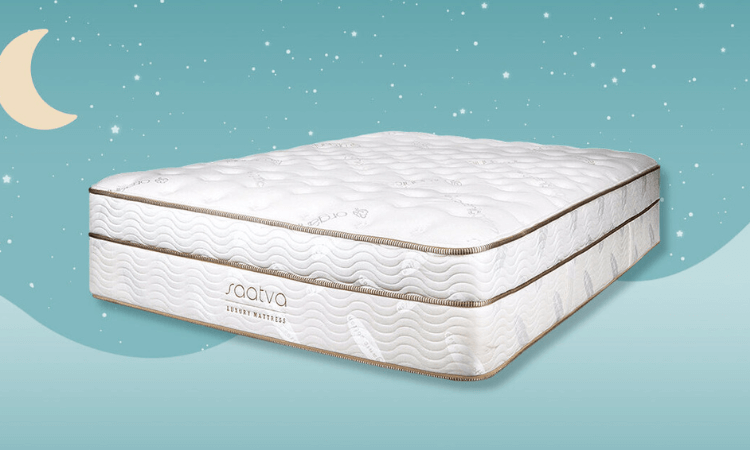 Are you in search of a mattress that will be your perfect bedding partner forever? Your search ends here. In this article, we are up with a list of the top 10 best mattress brands in India. Read till the end to know everything about the mattress you need to buy!
After a tiresome day, all that you need is a good night's sleep. But a good night's sleep comes with a good quality mattress that comforts and pampers your body, giving it the desired relaxation. You must always ensure that you use the best quality pillow, comfortable bed, and a cozy blanket.
Why Quality Mattress Is Important?
Many brands in the Indian market claim to be the best mattress brands online. But choosing a random mattress from them, may not be a good idea. You must choose the one with great precision, taking into consideration all the features and the price.
The quality of the mattress matters a lot if you don't want to get up tired or stiff in the morning. The mattress should neither be too bouncy nor too hard. Otherwise, you may experience body pain or stiffness. Also, you must consider the sleeping position, body type, mattress type, and type of pain.
To make your work easy, we have listed here the best mattress brands in India, that have been most reviewed by the people. So go through the list to know more about each brand.
1. Sleepwell Starlite Discover Foam Mattress
Sleepwell is one of the most trusted brands of mattresses in India. They have brought a revolutionary range of modern mattresses for all budgets. Whatever your style of sleeping, you will get a perfectly suitable mattress at Sleepwell. They have mattresses for kids, adults, and senior citizens too. They design mattresses with different comfort levels for every individual's requirements. Sleepwell is a versatile brand of mattresses as it manufactures mattresses of different materials such as coir, natural latex, memory foam, pocket spring, etc.
The Sleepwell Starlite Discover Foam Firm Double Size Mattress is the most selling nowadays. The brand uses good-quality foam to manufacture these mattresses. The breathable fabric provides enhanced comfort. It has a multi-layered core for luxurious comfort. Also, it has soft PU foam quilting. This mattress is delivered in a pre-assembled state. Thus, you don't need to assemble it.
2. SleepyCat Original Ortho Memory Foam Mattress
SleepyCat is a brand that gives luxury mattresses at affordable prices. It is also known as the best affordable mattress brand in India. Not only mattresses, but they serve you total comfort by providing various bedding solutions like beds, pillows, comforters, protectors, etc. It manufactures mattresses in three main categories, which are, original, plus, and latex. Also, these mattresses are available in various sizes that will suit modern bedding.
The SleepyCat Original Ortho 3-Layered Medium Firm 8-inch memory foam mattress comes with a bamboo cover. The bamboo cover is very soft and safe on the skin. This king-size mattress is perfect for your king-size bed to give it an elegant look. The super high-density foam of this mattress makes it durable. This mattress has a medium firmness and stays in place because of its anti-skid formula.
3. Wakefit Orthopedic Memory Foam Mattress
Wakefit manufactures its mattresses considering the requirements of various people of all ages. If your spine is misaligned, then you may experience restless sleep. Wakefit brings a wide range of mattresses that will give you the desired comfort. The mattresses are infused with an appropriate density that adapts to your body contour. Along with mattresses, Wakefit also provides home furnishing, bedding, and decor products. They craft mattresses of different kinds such as the orthopedic, memory foam mattress, dual comfort mattresses, latex mattresses, and foam spring mattresses.
The Wakefit Orthopedic Memory Foam 8-Inch King Size Mattress can be your relief partner, after a long tiring day. The Mattress takes the shape of your body and provides uniform support to your back and spine. Its firmness is medium and thus is suitable for almost all individuals.
4. Sleepyhead Original Orthopedic Memory Foam Mattress
Many people compromise their comfort because of their budget. To bring a revolution for such people, Sleepyhead has come up with a vast range of mattresses that are comfort-giving and affordable too. One of its most reviewed mattresses is the Sleepyhead Original – 3 Layered Medium Firm Orthopedic Memory Foam Mattress. It is available in various sizes to suit your bed as well as your requirements.
This mattress suits any sleeping style, and also comes under your budget. This memory foam mattress is made up of innovative technology and smartly contours to your body and provides maximum support to your back. The fabric of this mattress is machine-washable and thus it makes it easy for you to maintain the mattress. The outer cover is made up of a breathable fabric that dries quickly. So, if you are searching for a mattress that is easy to clean, and has the desired support for your spine, then you must prefer the Sleepyhead Original orthopedic memory foam mattress.
5. Springtek Dreamer Orthopaedic Memory & HR Foam Mattress
Springtek combines new technology with great innovative products. The mattresses are made with multiple layers for enhanced comfort. The Springtek Dreamer Orthopaedic Memory & HR Foam Dual Comfort King Size Mattress is a good-to-go choice, not only for elder people but also for adults. This mattress is medium firm but still feels softer. It is crafted with HD rebonded foam and high GSM fabric.
Doctors highly recommend this mattress for orthopedic patients. The mattress is durable and gives you a long-lasting comfortable experience. It has a foam layer for top cushioning and a quilted premium knitted fabric on the outer cover that gives this mattress a superior look. In every weather, this mattress will provide you with the perfect comfort by maintaining the temperature between the mattress and your body.
6. Duroflex Back Magic Orthopedic Mattress
Duroflex is a well-known brand of mattresses for decades. It provides the perfect sleeping solutions that are research-backed and technology-led. The brand never compromises on its quality and keeps bringing the latest technology into its mattresses. Along with mattresses, they also manufacture home furnishing such as beds, sofa sets, bed linen, pillows, comforters, mattress protectors, etc.
They produce three types of mattresses, that are, Duropedic, Energise, and Natural Living. These mattresses are made up of spring, foam, and coir. They have a vast budget range for people searching for a low-budget mattress, as well as luxury mattresses. Duroflex Back Magic is recommended by doctors for people who suffer from joint pain, back pain, and other orthopedics. This mattress is perfect for back support and posture alignment. It has a high density of coir and has the desired firmness.
7. The Sleep Company Patented Smart GRID Orthopedic Mattress
The Sleep Company manufactures the mattresses that are desired by modern people. If you are seeking comfort and pain relief, then you must switch your mattresses with The Sleep Company Mattresses. It is India's first brand to introduce grid mattresses in the market. The brand also provides other bedding essentials like comforters, pillows, protectors, and other bedding solutions.
The Sleep Company Patented Smart GRID Orthopedic Mattress is one of its most reviewed products. This mattress is medium firm and provides extra back support to keep your spine healthy and give you a peaceful sleep. The Smart Grid Mattresses are made to adjust to your body shape and give you the desired comfort and relieve you from everyday stress and pain.
8. Flo Ergo – Aloe Vera Gel Infused Orthopedic Memory Foam Mattress
A good mattress not only provides you with a good night's sleep but also is safe for your skin. Flo Ergo considers this while manufacturing their bedding essentials. They have brought an innovative touch to their mattresses by infusing the aloe vera gel in their orthopedic memory foam mattress. This ensures that the mattress has no side-effect on your skin. The cashmere fabric is anti-microbial which protects your skin and keeps it well-hydrated.
This mattress is made up of responsive foam and maintains the natural shape of your spine, and keeps you away from back pain. The mattress has an HD foam layer and microcapsules that maintains the temperature between the body and the mattress. So in every season, you will feel comfortable on this mattress. For your convenience, you can switch the sides of the mattress, as it has a firm surface on one side and a soft surface on the other side. This mattress is very easy to assemble.
9. SleepX Dual Comfort Mattress
If you are confused about which type of mattress to buy, hard or soft, then SleepX has sorted it for you. It has brought mattresses that have both hard and soft features. The Dual Comfort Mattress from SleepX lets you enjoy double comfort in a single mattress. The unique part about SleepX is that they engineer the mattresses using neem Fresche technology, which prevents the spread of germs and lets you sleep in a healthy and safe environment.
SleepX Dual Comfort Mattress Queen Bed Size is one of the popular SleepX mattresses. The outer cover is air mesh fabric that gives extra comfort and better air circulation. It is made using High Density (HD) Foam, which gives a comfortable night's sleep for people of all age groups. It is medium soft and hard, which reduces back pain and gives a peaceful sleep. If you want to enjoy luxury sleep in a healthy environment, then you should bring this mattress to your bed.
10. Coirfit SLEEP SPA NATURA Convoluted Cool Gel Memory Foam Mattress
The Coirfit Sleep Spa Natura King Size Convoluted Cool Gel Memory Foam Mattress is a special formulation by the brand. It is one of the best quality mattress brands in India. Coirfit believes that along with comfort, the mattress should also provide safety for your back. It is infused with the aloe vera fabric cover. The upper layer is made up of cool gel-infused memory foam. This maintains the right temperature while sleeping.
The middle layer is made up of a convoluted swirl of cool memory foam that keeps good air circulation. Its bottom layer is made up of high-density HR foam to give support to your body. The mattress is well sanitized before dispatch, which ensures that it is very safe for use.
So, this was our list of the top 10 best mattress brands in India. We have taken efforts and researched for various brands to curate this list. Here you can compare the top brands according to their features and choose the most appropriate one for you.
Conclusion:
You can get all these products easily available online at Amazon, The Sleep Company, Sleepy Head, Wakefit, Sleepycat, and many such trusted sites. Also, if you shop using discount coupons, then you can get more discounts on your purchase. This is the best way to get your bedding essentials at affordable prices.
We hope you found this blog useful. This list will help you get the idea about perfect sleep, and how you can avoid body pain while sleeping. If you like the blog, then let us know in the comments. Also, if you know about any other brand that you feel is worth spending the money on, then share your experience in the comments, so that other readers can read it. Thanks for sticking to the end. Keep Shopping!