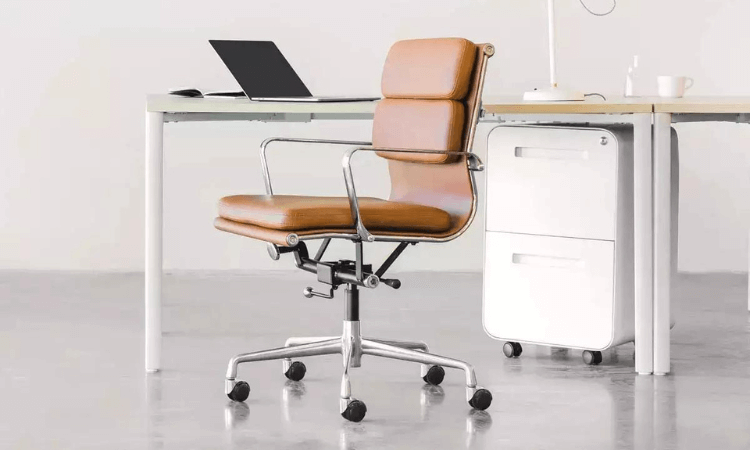 Looking for the best office chair brands in India?
A desk chair is an essential office item for any business or professional. Sitting at a desk for hours at a time can be tiring and uncomfortable. The right desk chair can make the difference between being able to stay productive and being sore and stiff.
Need Of Office Chair:
The most important aspect of a desk chair is its height. A desk chair should be at a height that allows the person to sit with their feet flat on the floor and their knees at a 90-degree angle. If the chair is too high, it will be difficult to reach the desk. If the chair is too low, it will be difficult to maintain the correct posture. So an adjustable chair is very important for your own comfort.
There are many different types of desk chairs, from leather to mesh, with different features to suit different needs. The most important features to consider are armrests, seat depth, seat height, and back height. Armrests are necessary for people who work on their laptops or PCs for long periods of time and a high back is important for people who are concerned about the risk of back pain.
As we all know there are several chair brands available in the market so it is quite difficult to choose the perfect office chair for yourself. Here, we listed the best office chair brands that are of good quality and comes under an affordable price range. With this list, you can easily select the best chair as per your requirements. Let's check out the list.

1. The Sleep Company SmartGrid Chair

Sleep Company is one of the most popular and trusted companies for modern home or kitchen furniture. This chair is designed for office workers and professionals who need a little extra support. It also has a mesh back and seat that is comfortable and breathable.
The breathable mesh material allows for airflow to keep you cool and comfortable while sitting. The ergonomic design is also meant to reduce neck and back pain and tension.
The back is height adjustable and you can recline the chair as per your requirements. The chair is designed to hold up to 350 pounds.

Features:
Adjustable sitting posture
Supports ergonomic sitting
Comfortable to seat
Durable for a long time

2. Green Soul Office Chair

Sitting for hours a day can take a toll on your body. You may not notice the aches and pains until you stand up and walk around. The Green Soul Jupiter Superb Office Chair is suitable to reduce strain on your back, neck, and spine.
This ergonomic chair will help keep you feeling your best while you work. The back of the chair is built to provide support to your lower back and neck. You can adjust the height of the chair to your liking with the easy-to-use lever located under the seat.
The breathable mesh fabric will keep you cool while you work, and the headrest will give you added support when you need it. The Green Soul Office Chair is perfect for anyone who spends hours at a desk.

Features:
Ergonomic design
Smart synchro multi-tilt lock mechanism
Heavy duty metal base
Comes with adjustable armrests

3. Amazon Brand Chair

The Solimo Accord Chair is a brand new product. Its design is so comfortable and easy to assemble that people are calling it the "IKEA of chairs." The seat comes with memory foam and breathable mesh fabric, so it contours to your body. The chair is available in a variety of colors and sizes.
This chair is suitable to offer an ergonomic and comfortable experience. The chair has a sturdy steel frame and is height adjustable. The Amazon brand office chairs are suitable to give you comfort while working.

Features:
Comes with prestigious design
Comfortable and durable design
Adjustable lumbar support
Suitable to weight up to 150kg

4. Featherlite "Astro" Mesh Office Chair

The Featherlite "Astro" Mesh Office Ergonomic Chair is a product that offers a comfortable, sleek, and modern look for the office. It is made with mesh fabric for breathability and a flexible, yet sturdy back for support.
The ergonomic design provides even weight distribution and encourages good posture. The seat height can be adjusted for comfort and the armrests are adjustable for maximum comfort. The chair is made of high-quality materials and is built to last.

Features:
Adjustable lumbar support
Adjustable armrest
Seat height is adjustable
Easy to assemble

5. CELLBELL Ergonomic Office Chair

Do you work long hours in front of a computer? If so, it's important to invest in a good chair. This ergonomic office chair is a popular choice among professionals and students alike.
The mesh back provides a breathable, comfortable surface to lean against while you work. The seat cushion comes with high-density foam, which ensures that you're sitting comfortably and supported. You can also adjust the gas lift to accommodate people of different heights.
The chair can also be adjusted to a height-adjustable stand-up desk, which is a popular trend among professionals these days. The chair is built to support up to 105 kg, and the dimensions are 50.8 x 48.26 x 104.14 cm.
Features:
Comfortable and sturdy design
Easy to assemble
Comes with 1 year of warranty
Value for money

6. Savya Home High Back Office Chair

Savya High Back Ergonomic Office chair is an innovative office chair that provides the best comfort and support for your back. It is made of high-quality, durable materials that are easy to clean. It has a mesh back that will not slip, and a waterfall seat edge that will not dig into your legs.
A gas lift allows you to adjust the height of the chair easily. The seat has a generous amount of padding that will not wear out and the seat is made of material that is resistant to stains. The back is adjustable and you can adjust it to the right height to prevent the lower back from overstretching.
The chair has a headrest that can be removed if desired. The chair also has a lifetime warranty on the frame and a 10-year warranty on the upholstery.

Features:
Comes with a strong steel base
Have comfortable cushioning
Ergonomic design
Adjustable headrest support

7. beAAtho Amaze Office Chair

The beAAtho Amaze Ergonomically Adjustable Executive Mesh Office Chair has a sleek, modern design that is perfect for the office. The mesh back is breathable and helps to provide a more comfortable seat.
The chair also features height adjustment, which can be adjusted by a knob on the side of the chair. The mesh fabric seat is made of high-quality material that is both durable and comfortable.
beAAtho office chairs are easy to adjust, which means you can find the perfect sitting position. The ergonomic design is sure to make your office more comfortable. This chair is made of durable material that will last for years. You'll be able to enjoy this chair for years to come.

Features:
Ergonomic design
Adjustable height
Easy to assemble
Suitable to work for a long period
Comes with 3 years of warranty

8. REDSPOT Revolving Chair

A work-from-home lifestyle can be tough on your back and neck. Sitting in a traditional office chair all day long can make you feel stiff and sore. Luckily, the REDSPOT Executive Office chair can help you to make your day-to-day work easier and more comfortable.
This chair is ergonomically suitable to support your back and neck while providing great lumbar support. It also features an adjustable armrest, a high-density foam cushion, and a locking back tilt that you can adjust as per your needs.
REDSPOT executive office chair comes with a removable fabric cover that you can wash easily, and a waterproof, stain-resistant fabric that you can wipe clean with a damp cloth. A cushioned seat and back offer comfortable support for your body, and this chair allows you to find the perfect position.

Features:
Made with high-quality material
Comfortable cushioning
Easy to assemble
Value for money

9. Wipro Furniture Office Chairs

The Wipro Furniture Ergonomic Office Chair is a great solution for anyone who spends the majority of their day sitting. These Chairs are quality chairs that will give you the perfect sitting experience. They also feature built-in lumbar support, adjustable armrests, and a tilt tension control.
It is suitable to help you maintain the correct posture and to promote a healthy back. The chair is easy to assemble and offers a sturdy, ergonomic design. The upholstery is made of durable and attractive fabric.
It is an ergonomic chair that is comfortable and supportive. The seat is also breathable and can be reclined, to help with aching backs. It has an adjustable height and movable armrests. The chair is available in a variety of colors and styles.

Features:
Comfortable to use for long hours
Strong and comfortable
Easy to assemble
Value for money
Comes with 1 year of warranty



These are the best office chair brands with good quality, durable material, and also come in an affordable price range. An office chair is an important item to have in the office, as it is the place where you spend a lot of your time during the day.
The best office chairs come with an ergonomic design, which means that they are more comfortable for your body. These chairs also come with lumbar support, which is important for good posture. Features added to these office chairs are helpful to reduce the strain on your back and neck.
Our Recommendation:
Out of the best office chair brands we have selected the perfect choice for you as per your requirements,
The Sleep Company is one the best brand when it comes to best office chairs and one of the best things is that it is the most trusted Indian brand. If you are on a budget and looking for a good quality office chair in an affordable price range then CELLBELL Ergonomic Office Chair is the great choice for you.
Don't forget to comment down your favorite office chair brands or any other office chair brands that you use so we can update our list.
Looking for a discount to buy your favorite pieces of furniture? Worry not we have a solution for you. Now you can buy your favorites at affordable price ranges just by sitting at home. Online shopping sites such as Amazon, Wakefit, The Sleep Company, Nilkamal, and Pepperfry provide free shopping coupons and discount offers for every online purchase. You can grab the coupons and avail of discounts for your favorite items.
Enjoy Shopping!!!