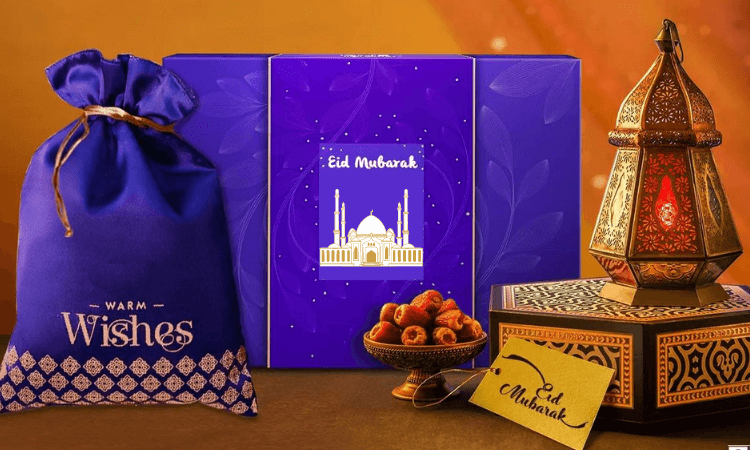 Looking for the best Eid gift ideas?? This Eid, bring happiness to everyone in your family and friends with beautiful and unique gifts.
Eid is devoted to the spirit of sharing. This festival follows Hajj, the annual pilgrimage to Mecca, Saudi Arabia. Muslims across the globe celebrate Eid in a variety of different ways that adhere to their particular cultures. But one thing remains constant i.e. the first day of Eid brings gifts and the new clothing for everyone. Children look forward to this exciting time as they anticipate getting to wear new clothes.
Everyone enjoys celebrating special occasions with their loved ones. Gift-giving is a tradition in Islamic cultures. Bringing gifts can add more happiness and love to these occasions. Gifts are the way to express your love and affection towards your family and friends.
Shopping for gifts makes a party feel more festive. It's not a secret that if you visit someone's house for dinner without bringing a gift for the family members or children, you won't feel good. After the Eid prayer, people visit relatives and friends with their families The term 'Eidi' refers to monetary gifts that young people receive during Eid.
Gift-giving is a tradition of course but sometimes you might get confused about which gift is perfect for your loved ones. But don't you worry here we listed the best Eid gift ideas for your loved ones from which you can choose the perfect gift for your wife, friends, or family members.
Let's check out the list.
1. Premium Gift Hamper For Eid

This Eid, surprise your loved ones with a Premium Gift Hamper that includes a variety of delectable foods. Sweets can be a perfect gift for any occasion. From children to older ones everyone loves chocolates and sweets.
You can gift this hamper to your friends and family members because it is a good quality product and come in beautiful packaging. This Eid, show your loved ones how much you care with this Premium Gift Hamper.
2. Special Lamps For Eid

For the holiday of Eid, these lamps can be a wonderful gift. They are made of durable materials which are waterproof and scratch-resistant. Eid special lamps come in a variety of colors and styles.
This table lamp is designed uniquely in a fancy and attractive way, especially for Eid. These special lamps can be the best and most adorable gift for your loved ones as it says Eid Mubarak. This year celebrate Eid with special lamps that are perfect for any occasion.

3. Eid Mug as Eidi

Eid mug can be the most beautiful gift for your little ones. A one-of-a-kind, ceramic mug that is perfect for holding a hot drink on chilly mornings. You can also gift this mug to your friends. Anyone can enjoy coffee in this cup as it features a beautiful multicolor design. This Eid mug can be the perfect gift for your Muslim friends and family members during the Eid holiday.

4. Showpiece For Eid

Kaba's newest Model Showpiece replicates the famous and historical Kaba, but with a more modern twist. The Model Showpiece is a sleek and sophisticated way to display your valuables at a fraction of the cost of the original. With a sleek and glossy finish, this beautiful display cabinet is an eye-catching centerpiece for any room.
You can gift this Kaba Replica Model Showpiece to your grandparents or parents and we assure you they'll love this showpiece. This Kaba Replica Model Showpiece is a great addition to any home or office decoration.

5. Prayer Headwear Cap For Men

This Eid you can gift your brother or friends this Muslim Prayer Kufi Hat. These hats are soft, breathable, and lightweight head covering. The two-colored cool design can never go out of style.
This prayer hat is made from high-quality polyester-mixed cotton cloth and has a velcro closure to adjust the fit. It is soft and comfortable and perfect for prayer. Wearing this Muslim Prayer Kufi Hat with any traditional outfit can complete the look.

6. Holy Book Quran Stand as Eid Gift

Holy book Quran stand is one of the best gift ideas for your loved ones this Eid. The bookstand comes with a box in which you can put your book safely. The box makes sure that your book is protected from any bents or external damage.
The box is made of wood with a golden-colored design. This book stand can be perfect for hands-free reading. It can hold any size Quran and can also be used to display any other books. This Holy Book Quran Stand can be perfect for any home.

7. Luxury Scented Candle For Eid

This luxury scented candle is perfect for celebrating Eid. Made with 100% natural soy wax, the fragrance is soft and subtle, with a scent that blends with any room. It is a blend of Vanilla, Lavender & Lotus fragrances. Its perfume is just best for any occasion. This luxury scented candle comes in a beautiful crystal jar with a bow and would make a great gift for anyone.

8. Vintage Jewelry Box as Eidi

The vintage jewelry box is a perfect gift for your girlfriend, wife, or sister. The best part about this box is that it is designed with a sturdy golden color design. The interior is roomy enough to store bracelets, necklaces, and earrings. This jewelry box will help to keep all of her favorite pieces in one place.

9. Dry Fruits Box as Eid Gift

If you are planning a visit to your family and friends for the upcoming Eid, then gifting them a box of dry fruits will make them feel special. You can even order custom-designed dry fruit gift boxes for this Eid. A customized dry fruits box can be an elegant gift for your loved ones.

10. Prayer Mats as Eid Gift

The prayer mat can be a perfect Eid gift for your friends and family. A prayer mat is essential for prayer as it will provide comfort and support. There are many different prayer mats on the market, but the most common is simple and affordable cotton prayer mats.
This Eid surprise your loved ones with special prayer mats which are usable and traditional. They are easy to store and transport. The prayer mat is made of a breathable, moisture-wicking fabric, so it is perfect for praying five times a day.

11. Perfume or Attar as Eid Gift

Perfumes or attars are the perfect eid gift for any Muslim who is celebrating the holy day. The perfumes are specially made for men and women. You can choose from a variety of fragrances as there are numerous choices in the market.
Choose the perfume that is made from natural ingredients as they do not cause any infection on screen. Gift your loved ones the perfect fragrance for this Eid occasion and celebrate the holy day with the scent of happiness.

12. Eid Mubarak Wall Hanger

Celebrate the holy month of Ramadan by gifting a new Eid Mubarak Wall Hanger. This wall hanger is designed to be hung on the wall and features decorative borders with the lettering on all slates. Hang this decoration in your home or office to celebrate the end of Ramadan and the start of Eid.
This beautiful and meaningful wall hanger will hang on your wall and remind you of the Eid Mubarak holiday. You can gift this wall hanger to your family or friends.

13. Quran as Eid Gift

If you're looking for a gift for someone celebrating Eid, then this Quran is the perfect gift. The Islamic books with stories of prophets and quotes with Islamic morals are really good gifts to give to children during Eid. Because the children are naturally curious and enjoy stories.
Quran is one of the most important books in Islam. It contains the teachings of the Prophet Muhammad and is considered to be the word of Allah. You can easily order some of these books online and have them shipped to your home.

14. Aroma Diffuser For Eidi

This beautifully crafted aroma diffuser is a perfect gift for Eid, or for any occasion. The soothing scent of the diffuser lasts for hours, with no need for expensive refills. These diffusers can create a relaxing atmosphere with a gentle and pleasant smell.
The diffuser features a natural-looking hand-carved design with a metallic sheen. The diffuser will emit a continuous fragrance, just simply add water and essential oils to the dish, then plug in the diffuser and enjoy the aromatherapy benefits.

15. Wall Clock as Eid Gift

Wall clocks can be a better gift for this Eid. You can gift them to your family or friends. This descent-styled wood-framed wall clock can be an elegant accessory for their home but also serves as a reminder of the beautiful Islamic traditions that we cherish. The clock is the perfect size for any home and one can display it anywhere in the house.

This is the list of best Eid gift ideas for your loved ones. Hope this list helps you find the perfect gift for everyone on your gift list. Let us know which gift idea you liked the most or any other gift ideas for Eid in the comment section.
Check out the Eid Special Dishes From All Around The World and celebrate this holy festival with your family and friends.
Looking for discounts on your online shopping? Now you can buy and save money while buying gifts or any other things online. Online shopping sites like Amazon, IGP, FNP, Floweraura, and Bigsmall feature discount coupons on your shopping. These shopping sites can also deliver various saving offers on your shopping.
Eid Mubarak!!