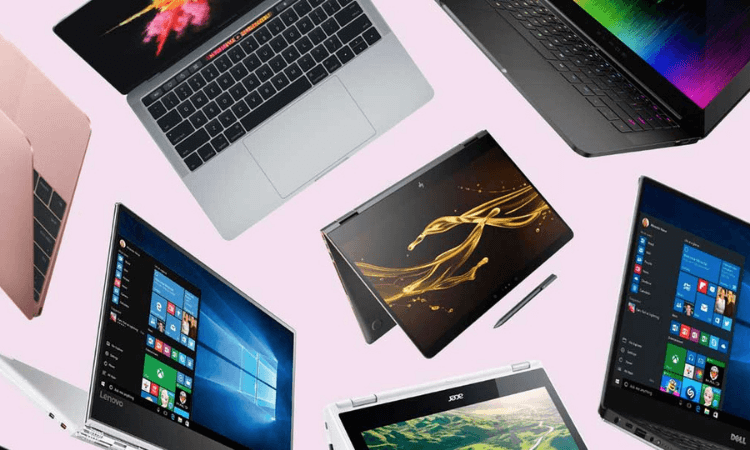 Are you looking for the best laptop brands? Laptops are essential appliances for everyone. No matter whether you are studying in school or working at the office having a good quality laptop is always a good choice.
Not only for office work but the laptop can be used for other tasks. Like if you are a content creator or live streamer or gamer laptop is mandatory for you. A quality laptop can release your stress and speed up your work. This can result in good work output and save your time parallel.
Today, there are so many laptop brands available in the market. It could be difficult for you to choose the best laptop brands. You should first call out your requirements clearly and then search for the laptop brand.
If you wanted a laptop for school or college purposes then you can select from HP or Dell will be the ideal choice. If you are buying a laptop for gaming purposes or office work then MSI laptop or Lenovo laptops will be the best. You have to analyze your budget also.
Here, we listed the top 10 best laptop brands available online with their price range and details. Let's check out the list.
1. Apple Laptops

Price Range: ₹ 83,610 – ₹ 2,59,900
As we all know Apple is the number one laptop brand in the world. Apple provides premium quality laptops with great features in them. They deliver quality-based products.
Apple laptops come with flat designs, high performance, long-lasting battery life, fastest processors, and many more breathtaking features.
Additionally, Apple laptops come with their own MAC operating system. MAC is the most powerful and secure OS of all time. If you are looking for the best laptop brand with a heavy pocket then Apple laptops are the best choice for you.
Latest Apple Laptop Series:
MacBook Air
MacBook Pro (13-inch, M1)

2. Dell Laptops

Price Range: ₹ 37,990 – ₹3,25,500
Dell is one of the best laptop brands in India. Dell laptop offers a high amount of features to their consumers. The decent looks and portable size are other best qualities of Dell.
The Dell laptops are made with premium quality material which increases the processing of the laptop. Dell provides excellent service throughout India, so you can easily get their services. These laptops are suitable for home as well as office.
So, if you are looking forward to buying a Dell laptop then go for it because you will get a quality product at an affordable price range. And apart from the features, Dell laptops offer a variety of options.
Also, check out the list of Best Dell Laptops in India.
Laptop Series:
Dell Inspiron (for home and office)
ALIENWARE (for gaming)
Dell XPS

3. Lenovo

Price Range: ₹ 19,990 – ₹2,66,999
Lenovo is a well-known brand in India. Lenovo manufactures excellent laptops. The latest models of Lenovo laptops are packed with great features inside and it is easy to navigate with the touch screen display.
There is no doubt that Lenovo laptops are the most trustworthy and reliable laptops in India. What makes them even more desirable is that their prices are very reasonable, so everyone can enjoy the benefits of such a laptop.
You can also check out the top picks of Lenovo laptops.
Lenovo Laptop Series:
Ideapad
Yoga
Thinkpad
Lenovo v series

4. Acer

Price Range: ₹ 24,990 – ₹2,02,990
Acer is one of the best laptop companies in India. The Acer company provides both commercial and consumer PCs to their customers. These laptops come in an affordable price range and offer the best technologies.
The Acer manufacturer provides top-notch performance and ultimate reliability laptops at reasonable expenses. Take a look at the best-selling Acer laptops on the market.
Acer Laptop Series:
Acer Aspire
Chromebook Spin
Acer Nitro

5. HP Laptops

Price Range: ₹ 22,990 – ₹3,39,000
The HP brand has one of the highest market shares in the Indian laptop market. Within the world of computing, HP has made a name for itself.
Due to the number of after-sales service providers out there, it is a brand you can trust by users who want quality laptops. They always love their designs and the comfort of their keyboards.
Despite having a standard technical service, HP has become a highly sought-after brand by those who want quality laptops. These laptops can be used by everyone like students, offices, and general work users.
Laptop Series:
Spectre
Pavilion
Elite
ProBook

6. LG Laptops

Price Range: ₹ 30,000 – ₹202,925
LG Electronics focused on developing new innovations across the globe. We are committed to providing electronic products that help customers live better.
LG develops high durability laptops with high performance. The LG's Gram series laptops overcome all the issues and develop a really powerful machine that provides long-lasting battery life, higher processing, modern internals, etc.
Laptop Series:
7. Asus Laptops

Price Range: ₹ 25,890 – ₹2,29,000
Asus is one of the best laptop brands in India nowadays because it provides excellent performance, long battery backup, the latest technology, good design, and many other things. It was founded on 2 April 1989 and its Headquarters are in Taipei, Taiwan.
In addition, ASUS laptops are easy to troubleshoot since replacement parts are readily available. ASUS laptops are very popular because of their high-quality components and offer excellent value for money.
ASU has laptops for almost everyone, whether they are students, creative or business professionals. Laptops from ASUS are always one step ahead to keep up with your active lifestyle.
Laptop Series:
8. MSI Laptops

Price Range: ₹ 53,500 – ₹2,87,379
The MSI brand is typically associated with gaming laptops, but now it is entering all categories of Indian laptops. MSI produces amazing gaming hardware, software, and high-quality desktops, laptops, motherboards, graphics cards, and almost all other related products.
MSI laptops are everyone's first choice when it comes to gaming laptops. So, if you are looking for the best gaming laptop MSI laptops are the best choice for you.
Laptop Series:
MSI GS Series
MSI GF Series

9. MI Laptops

Price Range: ₹ 56,999 – ₹62,843
The MI laptops are more efficient and come with powerful machines as compared to others. these laptops have lightweight and compact body designs. The HD Anti-Glare LCD display provides a premium viewing experience and intense image quality.
You can easily watch movies, work, or play games with the great screen-to-body ratio of MI laptops. Multitasking is also at ease with these laptops.
Laptop Series:
Mi Notebook 14
Mi Notebook Pro
RedmiBook 15

10. Samsung Laptops

Price Range: ₹ 27,790 – 1,30,000
Samsung is a South Korean company established on 1 March 1938. Samsung is one of the best brands in the electronics category.
These laptops featured higher security, long-lasting battery life, designs, touch display feature, fast processors, and more. Samsung is one of the best laptops manufacturers right now.
Laptop Series:
Samsung Galaxy Book
P series Laptops
X series Laptops

These laptops are the best and most popular laptop brands in India. I hope, the list has helped you find the best laptop brand for yourself. Please let us know of any other laptop brands that you know are convenient in the comments section.
Looking for discounts on the best laptop brands? Now you can buy and save money while buying laptops or other appliances online. You can visit online shopping stores like Amazon, Tatacliq, Dell, Croma, etc. These shopping sites can also deliver various saving offers on your shopping.