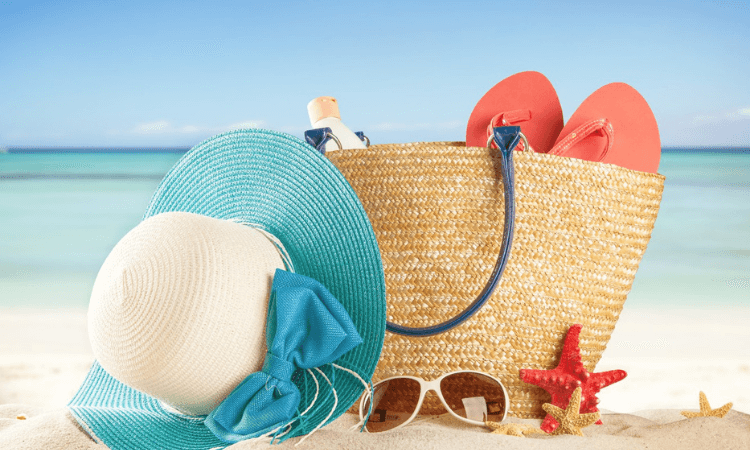 Planning for a beach holiday this summer? Take a look at these trending and sturdy designed holiday beach bags you can buy online.
You will need a bag to carry all your stuff with you easily. So, when you need something it could be right in your hand. You need to choose a lightweight, secure, and of course stylish Letbeach bag for yourself. If you are planning a vacation with your family then you must need a large-sized and durable beach bag.
Let's check out the trendy totes for the beach which will be the perfect ones for you.
1. Canvas Printed Bags

A good canvas printed bag is all you need to complete your beach vacation. Or you can just carry around your things in it! The bag is a perfect size for a beach day and is made with quality material. These printed bags can add more style to your outfit. The cotton bags are more durable and easy to carry.
You can also gift these bags to your friends or family members as they come in a variety of colors and patterns.

2. Floral Printed Bags

No matter where you go, the floral printed beach tote will be your constant companion. This versatile tote is perfect for carrying your favorite things while lounging on the beach, walking around town, or taking to the pool.
The tote is made with durable, water-resistant material. This bag also has a convenient shoulder strap and exterior pockets. The interior has a zipper pocket and a mesh pocket for storing your phone, wallet, or other essentials.
3. Transparent beach bags
This summer, take your next beach vacation with a convenient and stylish Beach Tote. This is a practical and fashionable way to carry all of your belongings to the beach.
The material is made of a high-quality, clear, PVC material. This means that the bag is waterproof and the contents are visible. The bag has a comfortable handle and a zipper closure to keep everything inside.
There is also a removable, adjustable shoulder strap that makes carrying the bag easy. This is a durable and versatile product that is perfect for the beach.

4. Jute Beach Bags

You can never have too many bags, and this one is perfect for the beach. The jute Beach Bag is made of natural jute material, which is durable and perfect for sand and water.
The bag features a large opening and can hold everything you need for a day at the beach. You can wash this bag easily. While selecting the Jute beach bag choose the rust-free one.
5. Premium cooler bags

Premium cooler bags are one of the best beach bags because of their holding capacity and stylish design. The bag is both sturdy and lightweight and is large enough to hold all of your essentials. It features a shoulder strap and an interior pocket.
This bag has a separate pocket to carry your shoes. It's the size of a small suitcase and you can easily carry it on your shoulder. This bag can be a perfect bag for the beach day.

6. Large Waterproof Bags

Waterproof beach bags are a must-have for any summer day spent at the beach. Waterproof bags can prevent your things from getting wet so you don't have to worry about it. This canvas tote bag is perfect for the beach. It has large, zippered compartments to keep your items safe and secure.
The straps are comfortable and easy to adjust. You can also use this multipurpose bag for grocery shopping or you can carry your stuff for outings. With this bag, you can be worry-free while spending time at the beach.

7. Stylish Shoulder Bags

The stylish shoulder bag can be perfect for the beach. These bags have enough room for your towel, sunscreen, and any other necessities. They are durable and water-resistant.
It has a zipper closure, which is handy for keeping your belongings safe. The bag is large enough to fit a large towel, a couple books, or anything else you need for the beach. The sleek design makes this bag a perfect accessory for the summer season.

8. Sturdy Leather Combination Bags

What could be more fitting for a summer day at the beach than a nice, sturdy leather beach bag? These bags are made from high-quality leather. And strong enough to carry your beach essentials and more.
These bags can carry all of your necessities but are not so big that they are bulky and difficult to carry.
You can use them to pack up your lunch, sunscreen, towels, toys, and other necessities for a day at the beach. These bags come in a variety of colors and designs, so you can find one that suits your personal style.

9. Cotton Tote Bag

A tote bag is a versatile, spacious bag that you can use for everything from work to leisure. The Cotton Tote Bag is made of durable cotton canvas with handles. These bags feature a roomy interior with a front pocket and a zip closure for easy access.
The Cotton Tote Bag is the perfect size for carrying everything you need for a day at the beach or on a weekend trip. You can literally use these cotton tote bags for every purpose or can take them with you everywhere you go.

10. Extra Large Bags

Beach season is finally here! Let your friends know that you're ready for some sun and sand with our Extra Large Beach Tote Bags. These bags are perfect for the beach, pool, or any other outing. They come in a variety of colors and patterns to match your style.
You'll be able to carry all of your essentials with you in this large tote bag, including your beach towel, snacks, sunscreen, and other items.

These beach bags are the best and the most trending in India. I hope, the list has helped you find and choose the ideal beach bag for yourself. Please let us know of any other holiday beach bags that you know are convenient in the comments section.
Looking for discounts on the best and trending styles? Now you can buy and save money while buying accessories or trending products online. You can visit online shopping stores like Amazon, Myntra, Shopper Stop, Nykaa Fashion, etc. These shopping sites can also deliver various saving offers on your shopping.
Enjoy Summer Shopping!!