Delhi
Delhi, India's capital territory, is a massive metropolitan area in the country's north. In Old
Delhi, a neighborhood dating to the 1600s stands the imposing Mughal-era Red Fort, a
symbol of India, and the sprawling Jama Masjid mosque, whose courtyard accommodates
25,000 people. Nearby is Chandni Chowk, a vibrant bazaar filled with food carts, sweets
shops and spice stalls.
Famous Tourist Places In Delhi
1) Red Fort
The Red Fort is an epitome of the Mughal era in India and is the face of tourist attractions in
Delhi. Built in 1638, it is an outstanding marvel of Mughal architecture made of red sand
stone. Within its magnanimous walls, the chhata bazaar and an every evening sound and
light show are special attractions.
It takes24 minutes to travel from Delhi Airport to Red Fort. Approximate driving distance
between Delhi Airport andRed Fort is20 km.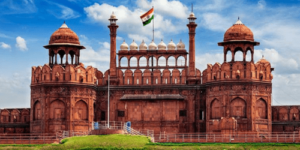 2. The Glorious India Gate
India Gate is one monument that defines Delhi or India for that matter. It was built in 1931
as aMemorial for Martyrs of World War I and war in Afghanistan. At Rajpath, the
structure looks amazing in evening lights. The gardens that line the structure are a must visit
among the sight seeing places in Delhi.
It takes7 minutes to travel fromNew Delhi Airport to India Gate. Approximate driving
distance between New Delhi Airport andIndia Gate is6 km.
3. Rashtrapati Bhavan : The Architectural Beauty
On the opposite of the Rajpath isresidence of the President of India. Not among the
typical tourist places in Delhi, access to this grand piece of architecture is restricted. With
four floors and 340 rooms in a floor area of 200,000 square feet, it has a huge presidential
gardens (Mughal Gardens), large open spaces, residences of bodyguards and staff, stables,
other offices and utilities within its perimeter walls.
Just a walk past the monument will give you the idea of how grand the monument is. It
takes22 minutes to travel from Rashtrapati Bhavan toIgi Airport. Approximate driving
distance between Rashtrapati Bhavan andIgi Airport is 19 km.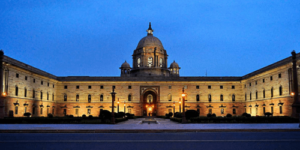 4. The Mysterious Reins Of Qutub Minar
Among the other places to visit in Delhi,Qutub Minar stands tall with its73 meter tall brick
minaret. Built by Qutub-ud-din Aibak, the structure has five stories abundant with chiseled
carvings and scriptures.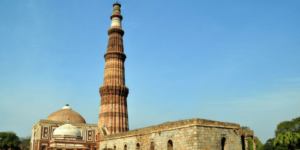 5. Chattarpur Temple For Its Wonderful architecture
Set amid the beautiful surroundings of South Delhi, Chattarpur is a popular temple founded
in the 1970s by Sant Shree Nagpal Baba. This divine temple has an incredible architecture
and it's a perfect blend of north and south. There are beautiful statues of Shiv-Parvati, Ram-
Darbar, Maa Katyayani, Radha-Krishna, Lord Ganesha, Goddess Laxmi, and Lord
Hanuman.
It takes 13 minutes to travel from Delhi Airport Terminal T3 to Chattarpur Metro Station
Delhi. Approximate driving distance between Delhi Airport Terminal T3 and Chattarpur
Metro Station Delhi is11 km.
6. The Stunning Iskcon Temple
ISKCON is a spiritual institution founded by His Divine Grace A.C. Bhaktivedanta Swami
Prabhupada in 1966. You can see the beautiful visual presentations of Bhagavad Gita with
colourful lights that create wonderful effect on the huge screen. They also organize beautiful
robotics and Mahabharata show during the evenings. There's a simple Govinda's restaurant
inside the temple premises, where you get veg food.
It takes27 minutes to travel fromIgi Airport T3 Road to Iskcon Temple. Approximate driving
distance between Igi Airport T3 Road and Iskcon Temple is23 km.
7. Lotus (Bahai) Temple: A Remarkable landmark Of Delhi
Famously known as the Lotus temple in the list of famous tourist places in Delhi,Lotus in
the Bahai Temple symbolizes four religions namely Hinduism, Jainism, Buddhism and
Islam. This temple belongs to the Bahai faith which proclaims that all people and religions
are united. Worshippers of every religion are welcomed here.
It takes 12 minutes to travel fromLotus Temple Delhi to Delhi Airport. Approximate driving
distance between Lotus Temple Delhi and Delhi Airport is 10 km.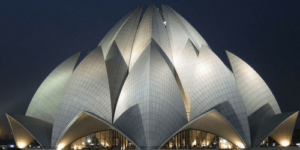 8. Jama Masjid: One Of The largest Mosques In India
Among the other tourist attractions in Delhi is the largest mosque in India–Jama Masjid. It
can hold 25000 devotees at a time. It was Shah Jahan's first architectural marvel. The
mosque has four towers and the southern tower gives a stunning view of the city. You've to
be dressed appropriately to enter the mosque. If not, rent an attire provided by the mosque
authority.
It takes 20 minutes to travel from New Delhi Airport to Jama Masjid. Approximate driving
distance between New Delhi Airport and Jama Masjid is 17 km or 10.6 miles.
9. The Holy Bangla Sahib Gurudwara
With the gurgling sarovar inside its complex,Gurudwara Bangla Sahibwas first built as
a Small Temple by Sikh General, Sardar Bhagel Singh in 1783. The complex also houses
a higher secondary school, Baba Baghel Singh Museum, a library and a hospital.
It takes 22 minutes to travel from New Delhi Airport to Gurudwara Bangla Sahib.
Approximate driving distance between New Delhi Airport and Gurudwara Bangla Sahib is 19
km.
10. The Buzzing Chandni Chowk
The main street of Old Delhi,Chandni Chowk is the heart of Delhi. Chaotically competing
for space, its narrow lanes are filled with shops to buy inexpensive stuff. Also, street food
just doesn't get better than Chandni Chowk.
It takes 22 minutes to travel from Delhi Airport to Chandni Chowk Metro Station.
Approximate driving distance between Delhi Airport and Chandni Chowk Metro Station is 19
km.