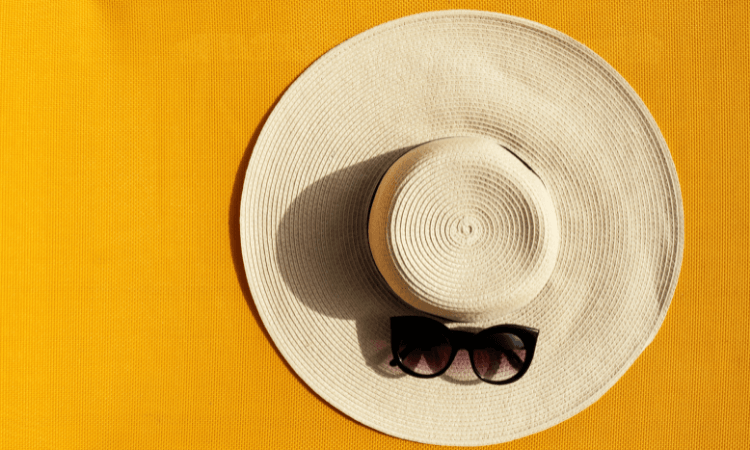 Looking for trending and stylish hats for women?
How do you feel when you are on your way to a party and your outfit is complete, but you are missing a hat? You feel incomplete. Your look isn't complete until you add the final touch. A hat completes the outfit and makes you feel confident and fashionable.
Now, you can find a hat that fits your style with a variety of colors, shapes, and styles. The best part is that you can find a hat that goes with any outfit and in any color. You can even find a hat that is perfect for any occasion from weddings to summer days. There are even hats that are specially designed for women with hair loss.
Hats can spice up any kind of outfit and there is a hat for every woman. Choose from the best hats collection here. Let's check out the list.
1. Sun Hats For Women

If you are planning to go on a summer vacation this year don't forget to bring your hat with you. It is important to wear a hat when you are outside. Hats can protect your skin and eyes from sun damage.
Sun hats are one of the best hats on the market today. You can bring them to the beach, pool, vacation, etc. because they are easy to carry. These sun hats are designed with a wide brim that is sure to keep your head and neck covered. The hat is also lightweight and made with skin-friendly material. It will be comfortable to wear and easy to combine with any vacation outfit.

2. Beret Hats

It's no secret that many women love berets. Whether they're used as a fashion statement or to keep the head warm, they're the perfect way to dress up any outfit. That's why beret caps are one of the best hats for women. With a variety of colors and patterns, you'll be able to find the perfect one for you.
They're available in different sizes and come in an array of colors and are suitable for women of all ages. You can wear these hats all day without discomfort because they are soft and comfortable. These beret hats can add more style to your overall appearance.
3. Dad Caps

Dad caps for women are casual wear caps. You can wear this cap literally anywhere as they look classy. You can wear them while shopping, on hangouts, on vacations, etc. These caps can protect you from sun rays and can also protect your hair.
These caps come in various sizes and shapes so you can choose from a variety of collections according to your outfit. Dad caps are mostly made with cotton mixed material which makes them really comfortable to wear.
4. Cowboy hat

Every woman needs a classic cowboy hat. Made from 100% leather, this hat will keep you cool in the summer and warm in the winter. This hat is made from the finest materials and crafted by skilled artisans. This hat is made with 100% genuine leather. Cowboy hats are durable and will last for years. These hats are also perfect for a woman of any age. This hat is perfect for a woman who wants to be unique.

5. Baker Boy Cap

Bakerboy hats for women are a stylish and fashionable way to keep your head warm in the winter. These hats are lined with satin and feature a brim that can be folded up or down. This hat is perfect for women who enjoy dressing up in style.
This baker boy hat will help you look perfect without damaging your hair. Bakerboy hats also come with adjustable bands so you can adjust them as per your comfort. Also, you can style them with any outfit

6. Retro Hats

If you're a fan of old-fashioned hats, then these vintage-inspired designs are for you. This collection of retro hats for women features feminine styles that are perfect for any outfit. Whether you're looking for a cute hat to wear to work or a more formal hat for a wedding, these hats are perfect for any occasion.
Retro hats are one of the most classic and cute hats for women. These hats give you a vintage-like feel and complete the look of any outfit.

7. Bucket Hats For Women

What's a summer bucket hat? It's a fashion-forward and functional hat that can be worn as a fashion accessory or for protection from the sun. Summer bucket hats are available in a variety of shapes, colors, and styles.
Whether you're looking for a hat with a classic or modern shape, this bucket hat will keep you looking cool and stylish. Why buy a summer bucket hat? It's lightweight, stylish, and functional. You can wear it as a fashion accessory or for protection from the sun.

8. Fedora Hats

Many women look for vintage hats that are not only stylish but also functional. These hats are perfect to wear for outings and they can be used to make a statement. Women of all ages and backgrounds can find a hat that is perfect for them.
These hats are not only fashionable but they are also comfortable and durable. A vintage that is perfect for women who want to wear a hat for a long period of time. You can pair this hats Vintage hats with shorts or jeans for a cute and casual look.

9. Fur Hats

If you're looking for a cute, cozy, and warm hat to wear this winter, this is the one for you! This hat is made of 100% furry material and is lined with a plush and cozy fur lining. It has a large brim that will keep you warm on those cold winter days. The hat is soft and lightweight and has a very comfortable, snug fit. It's perfect for any woman to wear in the winter.

10. Tribly Hats

TRIBLY hats are one of the best hats available in the market for women. You can wear these hats while on vacations or trips. Tribly hats give you a stylish and fashionable look. You can pair these hats with all kinds of vacation outfits. TRIBLY hats for women are perfect for all seasons and occasions.
These hats also come in various colors and designs so you can choose from a wide range of varieties.

These hats are the best and the most trending hats for women. I hope, the list has helped you find and choose the best hat for yourself. Please let us know of any other hats that you love to wear in the comments section.
Looking for discounts on the best and trending styles? Now you can buy and save money while buying accessories or trending products online. You can visit online shopping stores like Amazon, Reebok, Adidas, Puma, etc. These shopping sites can also deliver various savings offers and discounts on your shopping.
Enjoy Shopping!!