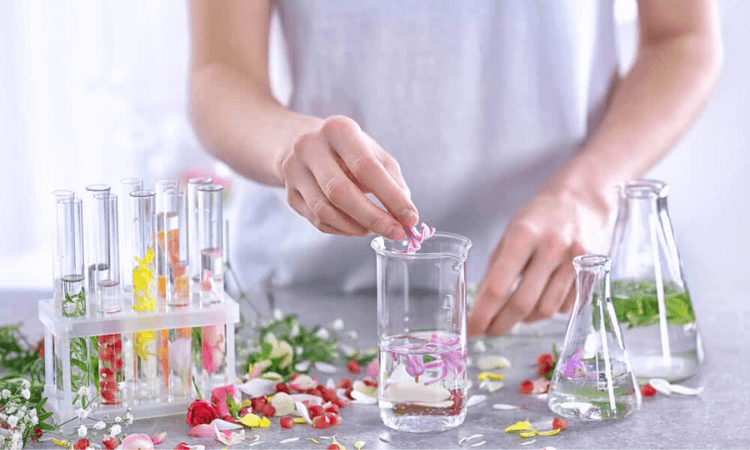 Tired of using chemical-based perfumes? We have a solution for you. Now you can make your own perfume at home naturally using no chemicals. Yes, it is possible to make your own distinct aroma using some basic ingredients.
A good-smelling perfume can create your own aura wherever you go. Home-made perfumes are the best way to avoid expensive perfumes from the market.
You can also gift these perfumes as a gift to your friends or family. Scroll down to know more about perfume making at home.

Science Of Perfumes:
There is a basic science of perfumes you need to understand before making your own perfume. Every fragrance is a blend of three notes which means scents. In perfume, there are three types of notes available i.e. top note, middle note, and base note. For the perfect fragrance, you need to understand the primary measurements of these notes.
The Top Notes are the scents we smell we sense at the beginning and it disappears first. This fragrance lasts for 15 to 20 minutes. Top notes include scents such as basil, bergamot, grapefruit, lavender, lemon, lime, mint, neroli, rosemary, and sweet orange.
The Middle Notes are the fragrance that appears when the top note disappears. This note is a core part of your fragrance that defines the family of your perfume. These notes include floral, woody, fresh, or oriental scents.
The Base Notes help to dry down the perfume on your skin for long hours. This note middle note to last longer on your body. It creates the lingering effect of your perfume. Base notes include cedarwood, cypress, ginger, patchouli, pine, sandalwood, vanilla, and vetiver.
For a perfect and long-lasting aura, you need to mix notes in distinct amounts. It requires 30% of the top note, 50% of the middle note, and 20% of the base note.
Buy 100% natural essential oils so there will be no side effects of using them.
First, you need to select your own signature note if you don't want a regular fragrance. You can choose the scent that suits your style and personality. You can create endless fragrances by mismatching scents that you like.

Required Ingredients:
These ingredients are required for making perfume from essential oils.
2 tablespoon Jojoba Oil (carrier oil, almond oil, coconut oil )
2.5 tablespoons of Distilled Water
6 tablespoons of Vodka (alcohol)
30 drops of Essential oil (9 for your top notes, 15 for your middle notes, and 6 for your base notes)
Coffee filter
A small funnel
2 glass bottles with an airtight lid

Let's do this!
– Mix carrier oil with the right amount of essential oils in the bottle.
– Now mix alcohol with it and close the lid of the bottle tightly.
– Set this bottle still for 48 hours. If you want a stronger scent you can keep the bottle still for up to 6 weeks. Remember the longer you set it still the stronger the scent will be.
– Once you are satisfied with the strength of the fragrance add distilled water to it and shake the bottle strongly for one minute.
– Transfer the perfume into another bottle with the help of a funnel. Use a sprayer lid for easy usage.

You can create your own aura by mixing a number of essential oils. Grab essential oils at affordable prices at online shopping stores such as Amazon, Nykaa, MamaEarth, and Just Herbs.

Benefits Of Making Homemade Perfumes:
You can easily customize your fragrance
Enhances your mood
Boosts confidence
Boosts health
Avoid harmful chemicals
Makes you attractive
Triggers memories
Cures a headache
Save money
Ideal for sensitive skin

You can also make perfumes using flowers or using different flavored essential oils. You can choose this activity if you are trying to do something new. Also, it can be beneficial for you can make so many fragrances just by mix matching the essential oils.
We hope the article helped you in making your own perfumes at home. Don't forget to share your perfume-making experience in the comment section.