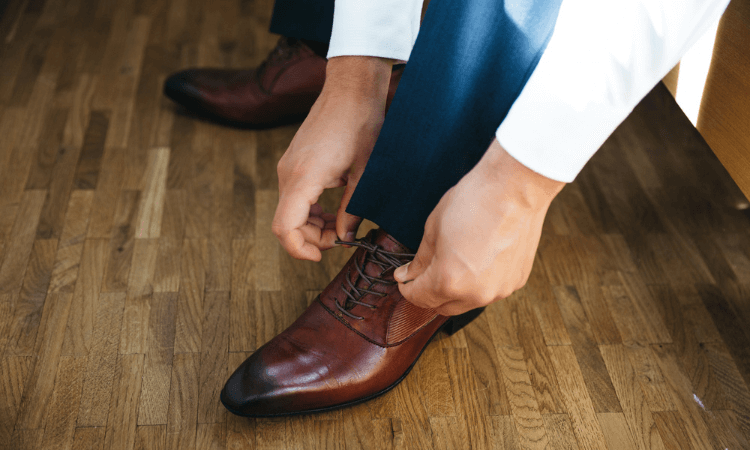 Looking for the best formal shoe brands for men?
Every man definitely owns a pair of sneakers but you cannot wear sneakers for every occasion. Formal shoes can give you an attractive and rich look. You can wear them for a job interview, meetings, or any other formal occasion.
Well-polished formal shoes are the must-have pair of shoes in every men's wardrobe. There are many types of leather shoes such as Leather shoes, Classic boots, Loafers, and many more.
It is important to find the best formal shoe brands for every man. There are many shoe brands available in the market so it could be difficult to choose the perfect fit for your feet.
Choose from the top 12 best formal shoe brands for men that are also available online. Lets's check out the list.

1. Bata

BATA is one of the famous shoe brands in India. They are a fusion of style and function. These shoes are designed for modern and urban men that can suit your every style.
Bata formal shoes are the best choice for men looking for a polished look for the office. These shoes have handcrafted leather insole. Also, they are easy to use or clean. These formal shoes are for men looking for a polished look for the office.
Bata shoes are made from a premium leather upper with a leather lining and an anti-microbial sock. They have a molded rubber outsole with a TPU toe guard for durability. These shoes also have tassel detail and a handcrafted leather insole.

2. Hush Puppies

Hush Puppies are shoes that are both dressy and casual. The leather and canvas fabric uppers of these shoes will give you a comfortable and durable fit. With the elastic side panels, these shoes will not only feel great but also look great. The cushioned insole will give you the best comfort as you wear these shoes.
Hush Puppies Men's shoe leather is soft and pliable, making it comfortable to wear all day. The leather is also water-resistant, so it can withstand rain and snow. It has a rubber sole, which makes it slip-resistant. It is a perfect shoe for formal occasions, such as weddings and job interviews. These shoes can keep your feet comfortable.

3. Mochi

Mochi is a leading Indian footwear brand. It is a one-stop shop for all your footwear requirements. These formal shoes are perfect for any formal occasion.
They are perfect for the office, a wedding, or any other occasion. They are available in sizes 7-13 and widths of B-E. Mochi Men's formal shoes are made of the finest leather and suede. They are also 100% leather-lined and come with a 1-year warranty.

4. San Frissco

Fashionable and well-made, these San Frissco Men Roman Black Patent Oxfords are a must-have for any man's wardrobe. These oxfords are available in a variety of sizes and come in black patent faux leather.
They are the perfect choice for the man who likes to be fashion-forward and is always on the go. These shoes are also great for all-day wear, as they are breathable and will not leave your feet sweating.
They are not only stylish, but also comfortable. These oxfords are perfect for any occasion, and will be sure to be noticed!

5. Woodland

Looking for a dress shoe that will last you through years of wear? Check out the Woodland Men's Leather Uniform Dress Shoe. Made with a full-grain leather upper, this shoe is comfortable and durable. These shoes are made to last long with excellent craftsmanship.
Woodland Leather Men's Shoes are made with the highest quality leathers and soles. They also have a soft insole and a padded heel, which ensures your feet will be comfortable for hours, while the synthetic outsole provides a good grip.
Available in brown, these shoes are comfortable and look perfect for any occasion. The Woodland men's leather shoe is a versatile shoe that is perfect for the office or out on the town. They are not only durable but also comfortable.

6. Amazon Brand

Amazon brand shoes are one of the best shoe brands available online. These formal shoes are ideal for any formal occasion or office. Amazon brand shoes are designed to be comfortable so that you can wear them all day long.
They are available in a variety of colors and sizes so anyone can find a perfect fit for themselves. Amazon brand shoes come with synthetic upper, thermoplastic elastomers sole with a round toe that gives your formal outfit a perfect look.

7. Lee Cooper

For the most part, people wear shoes that are not as comfortable as they should be. It's hard to find a pair of shoes that are comfortable for long periods of time. You may have to wear shoes that are too tight or too loose. You can avoid these problems with a pair of perfect shoes.
The Lee Cooper Men's Formal Shoes is a pair of shoes that is durable and comfortable. The leather upper of these shoes is durable and they can last for a long time. These shoes give you a classic, sleek look and you can wear them with any type of suit.
The shoe is also easy to maintain because it can be cleaned with a damp cloth. It's also lightweight and will not feel heavy on your feet. These shoes are available in different colors and sizes.

8. Red Chief

Step out in style in these classy lace formal shoes for men. Made of premium quality leather, Lee Cooper shoes are a must-have for any gentleman's wardrobe. With a sleek silhouette and polished look, these lace shoes are perfect for any formal occasion.
These men's leather formal shoes are sleek and elegant. They are made with the finest leather, providing comfort and durability. You can dress them up with a tuxedo or a suit, or dress them down with a more casual look.

9. Centrino

The Centrino men's shoes are comfortable and come in a variety of colors to match any outfit. They are available in different sizes and colors. The synthetic lining is soft and comfortable, and will not irritate your feet.
The insole is made of foam and has a unique ventilation system that will keep your feet cool and dry. The sole has a square heel, which provides good stability. These shoes will keep your feet cool and dry, and the slip-resistant outsole will keep you from slipping on wet surfaces.
The Centrino leather and elegant design are perfect for any formal occasion.

10. Harrytech London

Harrytech London Men's Derby formal shoes are a great choice for any man looking for an elegant and timeless shoe. With their smart and timeless design, these shoes are perfect for a formal occasion or just a day at the office.
This classic shoe has a rounded toe and a pointed vamp. They are designed with a high-quality synthetic leather upper, a leather lining, and a rubber sole.
The high-quality leather will last for years to come and the padded footbed will keep your feet feeling great. These shoes are also very comfortable, and they have a padded lining to provide additional comfort.

11. Stylelure

The Stylelure Men's Formal Shoes are a perfect option for the upcoming wedding season. These shoes are made of genuine leather, with a padded insole for extra comfort. They also have a sleek, stylish design that is versatile enough to be worn with formal or casual attire.
The style also has a variety of colors, including black, brown, tan, and many more. These shoes are not only a sharp-looking pair of shoes but they are also made of durable materials. These shoes will not only be comfortable to wear but they will also look great in your formal attire.

12. Arrow

Arrow Classic formal shoe for men combines style and comfort. These shoes are a perfect choice for any formal occasion. Made from quality materials, these shoes are designed to last and to look good. They come in many colors, from classic black to classic brown.
The upper is made of genuine leather and the inside of the shoe is lined with a soft sheepskin to provide warmth and comfort. The outsole is made of rubber and it has a solid heel and toe. These shoes are perfect for every formal occasion.
They are made from high-quality leather that is very durable and resistant to wear and tear. These shoes also have a flexible and lightweight sole that provides excellent support and stability.

This is the list of the top 12 best formal shoe brands for men that are available online. We hope, the list has helped you find a pair of the best formal shoes for yourself.
Please let us know of any other formal shoe brands for men of good quality and suitable for formal occasions in the comments section.
Looking for discounts on the best formal shoe brands? Now you can buy and save money while shopping online. You can visit online shopping stores like Birkenstock, Bata, Red Chief, Metro Shoes, etc. You can also save money with these shopping sites' latest discounts and coupon codes.
Enjoy Shopping!!!