Today, introducing the concept of affiliate marketing and their different modes. How affiliate networks used to find, select and track affiliates. I will be covering the following elements in this session:
# What is Affiliate Marketing?
Affiliate marketing is the concept of paying someone for selling products on your behalf – usually – on a commission based model. Often, you must have seen Flipkart ads on websites like Couponmoto.com or maybe a Swiggy ad on some food blog website. These in many cases are affiliate marketing deals. Let's understand more about it.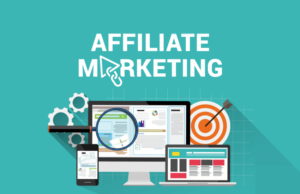 affiliates increase sales and help in gaining market share. There are different types of affiliates like blogs, e-mail/ newsletter, coupons and incentivized traffic.
# Elements of Affiliate Marketing
There are a few basic questions which one should answer before opting for affiliate marketing and then select the publisher. It could either be the affiliate suitability, the deal structure between the parties involved etc.
It's extremely importance of choosing and monitoring the right affiliate for related products/services that are to be advertised. The measurement metrics varies as per affiliate type. In affiliate marketing, two parties (Advertiser and publisher) work for each other.
Then, there are different types of deal structure between the advertiser and publisher – pay-per sale, where commission is only paid to the affiliate if the sales happen, pay-per-lead, where commission is paid on the basis of the lead generated in terms of collecting user information by the affiliate and pay-per-click, where commission is paid once the user clicks on the merchant's ad and is directed to their landing page for final purchase consideration.
let's take an example of DTH company:
A DTH Direct to home channel service provider wants to promote their HD TV connection offer during the T20 world cup season. The marketing manager has received the following data (in the table) of a few leading websites which are under his consideration list.
Then, which are the 3 websites which he should consider as an affiliate for this campaign? The maximum volume of the audience has to be attained with at least a minimum volume of 4,000. Only 1 out of 3 selected affiliates can have a relevance score < 7
feedback: Affiliate 2,5 and 6 together fulfills the minimum search volume criteria. The relevance score is also highest in these 3 affiliates. Affiliate 9 has similar relevance score but a high cost per click. Hence the affiliates with apt audience volume, highest relevance score and lowest cost per click were chosen for this campaign.
# Affiliate Network
Finding the right publisher who has the potential to be our affiliate, can be a daunting task – especially given the enormous amount of affiliates out there. As a solution to this, affiliate networks act as marketplaces between both the advertisers and the publishers. These networks collect requirements and constraints and give recommendations on the right publisher and charge a commission for the same. Let's understand this in detail
affiliate networks such as Maxbounty provide their platform access to merchants and allow them to promote their affiliate programs in the marketplace. Affiliate networks charge a commission from merchants on the basis of completed action like the cost-per-sale and cost-per-click method. They (Network) also manage the process of affiliate tracking in which through the help of cookies on user devices the relevant transaction data can be generated.
Let's have one more example for better understanding of key elements
a used car buyer company has run several affiliate campaigns with top car reviewing websites with a budget of INR 2,00,000. The campaign objective was to collect leads of individuals, who are planning to sell their car in the near future. The company has now decided to go with a cost/ sale agreement with the best-performing affiliates.
Out of the 10 affiliates given below, which are two should be approached for cost/sale negotiation.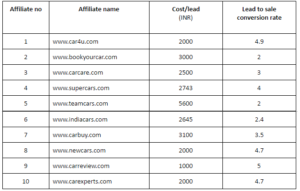 Feedback:The best combination of least cost per lead and highest conversion rate. Affiliate no 9 has the least cost/lead and highest conversion. Affiliate no 1,8 and 10 have the same cost/lead but affiliate 1 has a better conversion rate. Hence the affiliates 9 and 1 should be approached for final negotiation.
Here is some additional reading material to enhance your understanding of affiliate marketing.
Do share your views in comments.